Four Corners for Playdate
A downloadable Playdate game
Four Corners for Playdate
Four Corners is an energetic puzzle game for your Playdate that asks you to do something simple - make rectangles.
That's it. Really!
Ok, not really. As the name implies, it's the corners that matter here. Each corner of your rectangle must be the same color, and there are three different colors and a hundred tiles to choose from.
Then there's the thirty second timer. And there's a square counter that demands a certain number of tiles. And every time you fill it up, it just wants even more. But you only ever have thirty seconds, which isn't a lot of time, so things get exciting pretty quickly.
Oh! And did we mention there are Bombs? Because there are bombs. And a bunch of bonuses to help you out along the way.
Rectangles. Bombs. Bonuses. Are you a Corner Master?
Be sure to check out this strategy thread to get yourself a head start in the game!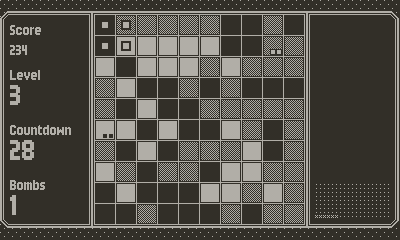 "Its a pretty clever puzzle game. I don't think I've played a game like this … it is a lot of fun, I really recommend you try it out."
"Clever gameplay! Unique and well-suited to the Playdate."
"I don't know how you keep making games I absolutely love, but there you go."
Features
Thrilling rectangle creating action!
An Original Soundtrack featuring Five great songs that slap.
Never before heard sound effects.
The Voice of the Grid, cheering you on.
As many as three shades of gray!
Three difficulty levels, each with a slightly more forgiving time requirement.
Local high scores for each difficulty level.
Bombs that blow up whatever tile color has the most representation on the board.
Special Bonuses like the Instabomb and the Quad Clear to make your job easier. And they stack to become even more powerful!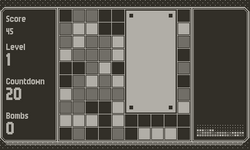 How to Play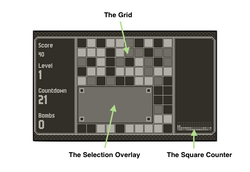 Use the D-Pad to move the selection markers across the grid. Hold the buttons to move quickly.
Press the A Button to turn on Selection Mode to expand the selection markers. When each marker is over a tile of the same color, it will fill in with the color of those tiles.
Press the A Button again to clear these tiles and collect points.
While in Selection Mode, press the B Button to cancel and return to Navigation Mode.
When not in Selection Mode, pressing the B Button will use a Bomb, if you have any.
Fill the Square Counter to complete a level before time runs out.
Each time you complete a level, you'll be granted another Bomb. You can also get a Bonus Bomb by making a rectangle that contains all of the tiles on the grid.
The Square Counter will reset, and grow by two rows (38 additional tiles). Any overage from your last clear will be included when it resets.
Make rectangles that have bonus tiles in their corners to take advantage of their benefits. Bonuses will stack with one another.
The game defaults to a normal difficulty setting (45 seconds), but if you're having a tough time, or want a more relaxed experience, try switching to easy (60 seconds) via the system menu. If you're up for a real challenge, try it on hard with only 30 seconds!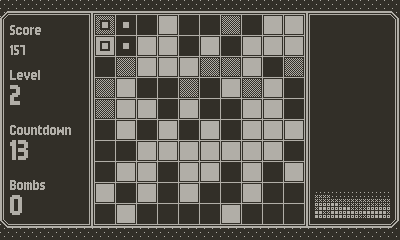 Bonus Tiles
BONUS TILES ONLY APPLY WHEN THEY ARE IN THE CORNERS!
| | |
| --- | --- |
| | Double Clears multiply the number of tiles in your clear by two. |
| | Quad Clears multiply the number of tiles in your clear by four. |
| | Instabombs immediately remove all tiles of the color of the clear from the grid. Two or more in a match will blow up the entire grid. |
| | Time Warps add an additional five seconds to the clock for each one in a corner. |
As mentioned, bonuses will stack. So, for example, if your rectangle has two Quad Clears, you are effectively getting an 8x clear.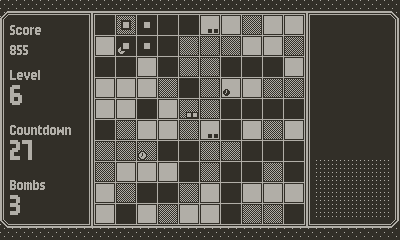 Ignoring bonus tiles and combo opportunities will ensure a very quick presentation of the Game Over Screen.
Game Over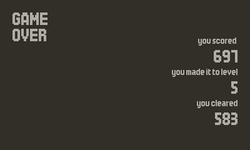 The game will end if the Timer runs out before you are able to satisfy the Square Counter's requirements.
Controls
| | |
| --- | --- |
| | Use the A Button to turn on Selection Mode, and press it again to confirm a selection. |
| | The B Button can be used to Cancel Selection Mode and return to Navigation Mode. When in Navigation Mode, pressing the B Button will fire off a Bomb. |
| | Use the D-Pad to move the Selection Markers while in Navigation Mode, and to expand them while in Selection Mode. Hold the buttons down to move quickly. |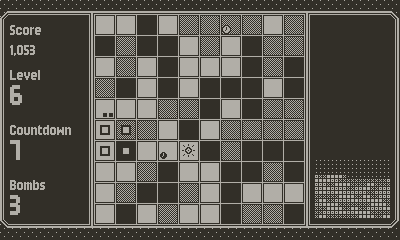 Our Other Playdate Titles
Purchase
In order to download this Playdate game you must purchase it at or above the minimum price of $4.99 USD. You will get access to the following files:
FourCorners-v1.2.0.pdx.zip
6 MB
Comments
Log in with itch.io to leave a comment.
Love the game. Are there any chances of adding an endless mode (no timer)?
Glad you like it!
I had an iteration of the game early on that was turn based with no timer. You'd get X (never quite landed on the right number) turns to clear as many tiles as possible. A full screen clear would give you a bonus turn, and finishing a level would add two more turns. Then I decided to be more faithful to the original game (this is a port of an iOS game I wrote 10 years ago) and maybe add different modes in a follow up release. Also considering a "very hard" mode with 4 colors which would add other types of specials like "simplifiers" from the original game that would reduce the board to two colors for a turn or two.


If you have any specific ideas for what you'd like to see, please let me know!

I was trying to match all four initial corners and getting no where, then it finally clicked for me and I focused on the top left corner. Much easier, but still quite a challenge with the timer talking to me! Is a worthwhile 'protip' to use up all 3 bombs on each run?
You get a bomb each time you finish a level, so you have to get to at least level two before you can use a bomb.

I tend to use them when nothing is jumping out at me. Whatever color appears the most on the grid will be removed, making it a lot easier to see four tiles that will line up to create a rectangle.

I'm going to post a strategy thread on twitter this afternoon!