Generations for Playdate
A downloadable Playdate game
Generations for Playdate
---
Generations is a challenging puzzle game that has you organizing Portraits on the wall of a living room, a task requiring a surprising amount of strategy, planning, and thinking ahead. Check out this strategy and tips thread on Twitter!
"Great game concept, and fantastic execution. Can't put it down! Hits the elusive puzzler sweet spot of challenging but not frustrating. Highly recommended!"
"Generations is yet another super special puzzle game."
"Excellent puzzle game - took me three goes until it clicked and I love it. Easily one of the best puzzle games on Playdate and one every owner should have. "
"Generations for Playdate is really, really good. Smart little match three-ish puzzler with some unique twists, wrapped around a wholesome (or kind of sad?) theme. Super good."
"This kind of gameplay is both timeless and ideal for those quick play sessions that the Playdate so perfectly excels at."
"Way too many children in this family."
Each time you hang three (or more) Portraits of any family members of the same age group next to each other, the Portraits will combine into a new Portrait of an older family member.
The current Portrait is on the table to the left of the couch, and the Next Portrait rests on the middle of the couch. Bonus Portraits will appear on the table to the right of the couch. More on those in a bit.
The game begins with Storks. Three Storks combine into an Infant. Three Infants turn into a Child, and so on until you combine three Portraits of the matriarchs and patriarchs of the family. When this happens, you've created a Generation, and all Portraits you've hung on the wall will automatically age up and the spaces occupied by the elderly will open back up, ready for a new generation of descendants.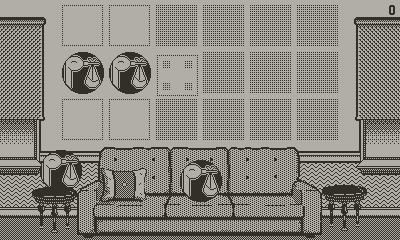 Portraits can only be hung next to other Portraits, and you'll need to think ahead to optimize their placement in order to chain matches and not strand any. Once you've run out of space the game will end.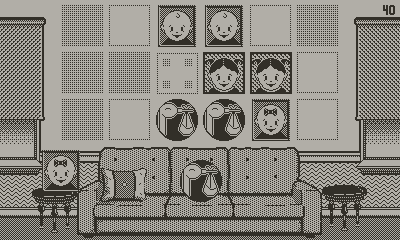 Controls
| | |
| --- | --- |
| | Press the A Button to place a Portrait on the wall. Long Press the A Button to store a Portrait for later on the table to the right of the couch if it is not already occupied. If the table is already occupied, long pressing the A Button will switch to the portrait on that table, or back to the current portrait. |
| | The B Button will Undo your most recent move. You may not Undo a move if that move resulted in a Match. You can also Long Press the B Button to Pet The Cat if he's on the couch or sitting on the window sill. |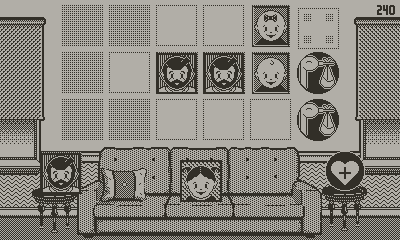 | | |
| --- | --- |
| | The D-Pad is used to navigate spots on the wall. Open spots have a single, light outline around them. The currently selected spot will animate up and down, and if it's open, will display four markers on the inside. Squares that are a solid gray cannot be played - to open these spots, there must be a Portrait hung next to them. |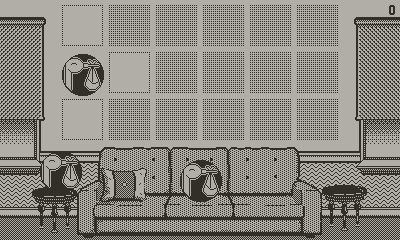 | | |
| --- | --- |
| | The Crank is used to switch between the current Portrait and the Bonus Portrait. Whenever you chain a match, you'll earn a Bonus Portrait that will appear on the right side of the couch if that table is not already occupied. This will either be a Portrait of the same value of the Chain, or could be a Special. More on those later. |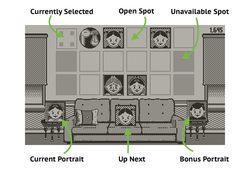 Making a Match
To make a match, select an open spot that has at least two other Portraits of the same age group adjacent to each other. Portraits touching on any side are considered adjacent. Gender does not matter.
Combinations
| | |
| --- | --- |
| | Three or more Storks combine into an Infant. |
| | Three or more Infants combine into a Child. |
| | Three or more Children combine into a Teen. |
| | Three or more Teens combine into an Adult. |
| | Three or more Adults combine into a Senior. |
| | Three or more Seniors create a Generation. |
Chaining a Match
To Chain a Match, you must be strategic about your Portrait placement. You'll need to complete a match that results in a Portrait that matches two or more existing Portraits on the wall. Each time you succeed in chaining a match, you'll gain a Bonus Portrait so long as the table to the right of the couch isn't already occupied.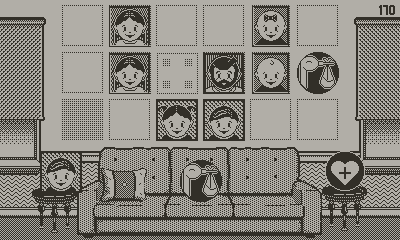 Creating a Generation
To create a Generation, you must combine three or more Seniors. When this happens, all Seniors on the board are removed from play and every Portrait currently on the wall ages up a level.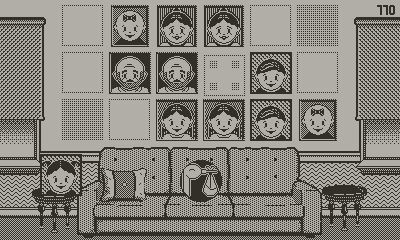 Specials
Whenever you Chain a Match and are awarded a Bonus there is a small chance that you'll get a Special. There are two different types of specials, and they are played on existing Portraits.
| | |
| --- | --- |
| | A Plus Heart will age up any Portrait it is played on. They cannot be played on Seniors. |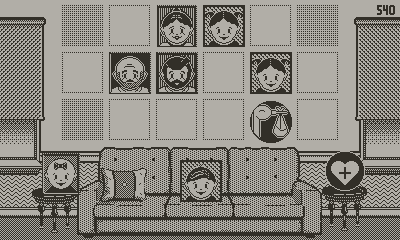 | | |
| --- | --- |
| | A Minus Heart will remove any Portrait it is played on from the wall. |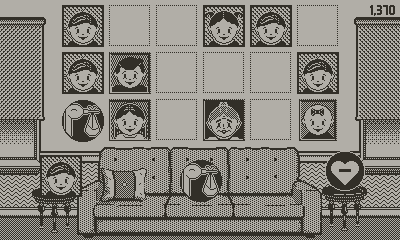 Game Over
The game ends when there are no more available spots on the wall to hang a Portrait.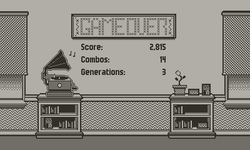 Achievements
The game has over 40 achievements for you to earn, four of which are hidden.
System Menu
While in-game, there are two options in the System Menu
Restart Game will - you guessed it - restart your current game.
Main Menu will save your game and return you to to the front door. Your progress is also saved when you exit the game and will be ready for you the next time you play.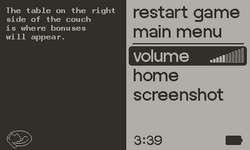 When on the main menu, there are three options in the system menu.
Sounds allows you to toggle sounds on and off.
Mode exposes an accessibility option to display the portraits as numbers for those players that may experience difficulty telling the images apart.
Cat Allows you to set your preferred cat mode. Options are Random, Couch, Window, Outside and None.

The system menu while on the main menu.
The Main Menu
From here you can Start a New Game or Continue a Game that's already in progress, see the Top Five Local High Scores, access the list of Achievements, and view your Lifetime Stats.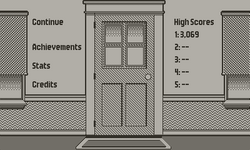 Our Other Playdate Titles
Purchase
In order to download this Playdate game you must purchase it at or above the minimum price of $4.99 USD. You will get access to the following files:
Generations-v1.1.2.pdx.zip
1 MB